About This Station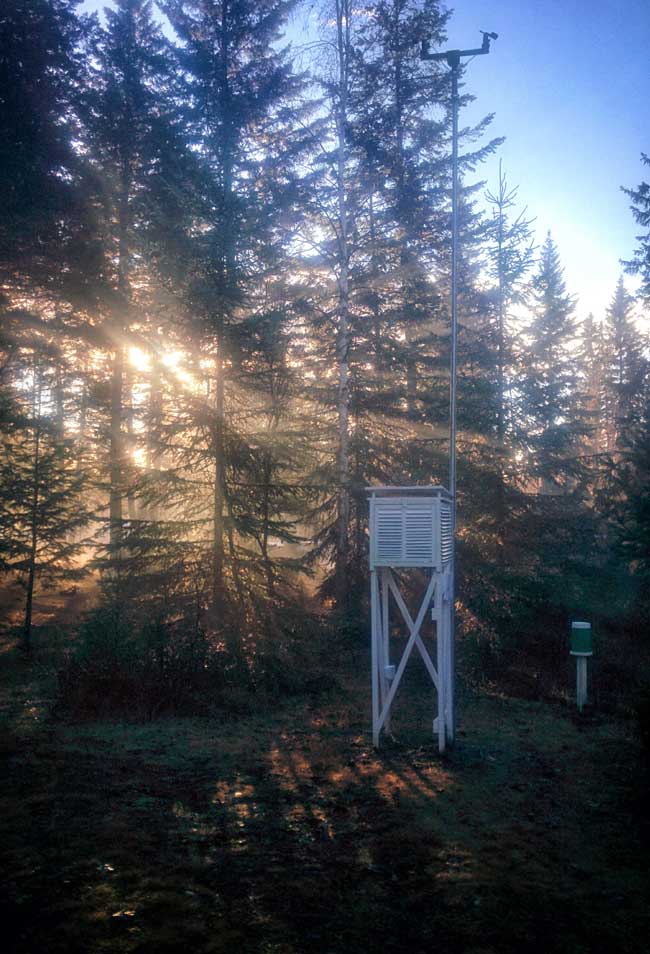 The station is powered by a Raspberry Pi computer. The data is collected every 30 seconds and the site is updated every 5 minutes. This site and its data is collected using WeeWx Weather Software. The station is comprised of an anemometer, a rain gauge and a thermo-hydro sensors situated in optimal positions for highest accuracy possible. Severak ground sensors are also installed, but will not be configured until spring 2017.
We are also part of the Citizen Weather Observer Program (CWOP FW0692) which is a network of privately owned electronic weather stations concentrated in the United States and Canada but also located in over 150 countries. Network participation allows volunteers with computerized weather stations to send automated surface weather observations to the National Weather Service (NWS) by way of the Meteorological Assimilation Data Ingest System (MADIS). Our MADIS station is F0692
Our participation with CoCoRaHS Canada started here in spring of 2017 where we measure daily precipitation. CoCoRaHS, the largest provider of daily precipitation observations in the United States has been measuring precipitation in the Canadian Provinces, the Commonwealth of Puerto Rico and the U.S. Virgin Islands for the past several years. CoCoRaHS (pronounced KO-ko-rozz) is a grassroots volunteer network of backyard weather observers of all ages and backgrounds working together to measure and map precipitation (rain, hail and snow) in their local communities.
We are also participating in the Blitzortung.org, a worldwide, real time, community collaborative lightning location network.
About Barriere and Area
Boulder Mountain is situated close to Darfield and Barriere. Darfield is an unincorporated rural community a few miles south of Little Fort, British Columbia, Canada in the Thompson Country along the North Thompson River. Barriere is a district municipality in central British Columbia, Canada, located 66 kilometres (41 mi) north of the larger city of Kamloops on Highway 5. It is situated at the confluence of the Barrière River and North Thompson Rivers in the Central North Thompson Valley.
The community derives its name Barriere from the rocks/nets placed in the water by first nations people to act as fish traps, forming a barrier to boat passage on the river. The descendants of those placing the fish-trap barriers are from the Simpcw/Secwepemc Nation, who still reside in present-day Chu Chua, just north of Barriere.
Barriere has a humid continental climate with cold winters and warm summers. Winters are cold and snowy with a January average of -6.5 C (20 F) and an average annual snowfall of 121 centimetres (48 in). Summers are warm and dry with a July high of 27.9 C (82.2 F) although temperatures above 30 C (86 F) occur 27 days in a year. The climate is dry, with an average annual precipitation is 486 millimetres (19 in).
Barriere is primarily driven by the forest industry, however the other industries which serve the town are tourism and agriculture, primarily alfalfa. Mining development is on the increase in the North Thompson Valley, and is predicted that many forestry workers will migrate from forest to mining as these new developments begin production. There are two industrial parks in the community. One is located in nearby Louis Creek and was the former site of Tolko Mill was destroyed in the 2003 fire. Barriere is just south of the newly discovered Harper Creek Copper deposit, considered to be the 8th largest in the world.